Giving fake name leads to arrest for Columbus woman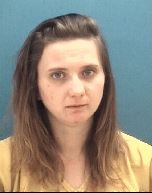 Columbus police say a woman acting suspiciously in a westside store was arrested after she was found to have four outstanding warrants.
The incident started at about 10 a.m. Monday morning when police were called to the Walmart store on Merchant's Mile in Columbus to check on the woman.
But she allegedly gave police a fake name. She turned out to be 29-year-old Alexa Hicks of Columbus, who was wanted. She was taken into custody on the warrants and on a new charge of false informing.