Traffic enforcement blitz leads to arrest on drug charges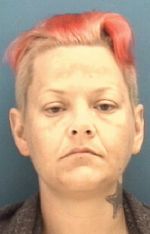 Bartholomew County deputies say that the statewide Drive Sober or Get Pulled Over initiative led to the arrest of a Greensburg woman on drug charges Tuesday evening.
According to police reports, a deputy pulled over a vehicle with an expired license tag at about 6:28 p.m. Tuesday evening. A passenger allegedly gave police a fake name, but she turned out to be 42-year-old Nicole Schlapp of Greensburg who was wanted on three outstanding warrants from other counties. A search revealed drugs, drug paraphernalia and a 9 mm handgun.
In addition to the outstanding warrants, Schlapp was arrested on charges of false informing, possession of the weapon, methamphetamine, marijuana and drug paraphernalia.
More than 200 agencies around Indiana are taking part in the Drive Sober or Get Pulled Over blitz. Through Labor Day, the high-visibility overtime patrols are being funded by the National Highway Traffic Safety Administration through the Indiana Criminal Justice Institute.