Driver leads Columbus police on chase through farm field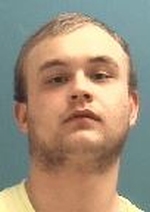 A Columbus man led police on a high-speed chase that included a drive through a farmer's field early yesterday morning.
Columbus police are reporting that an officer tried to pull a vehicle over for a loud muffler at about 1:45 a.m. Wednesday morning near 11th and California streets. But the driver took off, eventually driving into the rural parts of the county. He ran off the road and into a field near County Roads 250W and 100N, where he turned around and started to drive off again. But officer deployed a tire deflation device and his vehicle soon was disabled.
19-year-old Tyler L. Howard of Columbus was driving on a suspended license. He is facing new charges of criminal recklessness with a vehicle and resisting law enforcement with a vehicle.