High-profile Louisville lawyers represent deceased jail inmate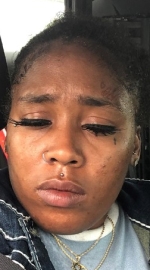 The legal team for Breonna Taylor's family is taking the case of a Louisville woman who died while in police custody in Jackson County last week.
Attorney Sam Aguiar says he and his team are taking the case of Ta'Neasha Chappell. The 23-year-old died at a hospital in Seymour on Friday after being taken there by ambulance from the Jackson County Jail.
Chappell was originally arrested after an incident at the Premium Outlet Mall in Edinburgh, accused of leading Indiana State Police on a 100-mph chase almost to the state line.
A theft from a store in the mall was reported to authorities on May 26th. Indiana State Police caught up with the vehicle near the Seymour exit on Interstate 65 southbound about 15 minutes later. The trooper stopped the vehicle and began to take Chappell into custody. But Chappell pulled away from the officer, got back into the vehicle and took off, headed south on the interstate at speeds of more than 100 mph.
Chappell's vehicle eventually hit the rear of a truck near Clarksville, disabling the car in the median.
After the crash, Chappell was taken to Schneck Medical Center to be checked out before being arrested on numerous felony and misdemeanor charges related to resisting law enforcement.
She had been held in the Jackson County Jail since her arrest.
Indiana State Police are investigating Chappell's death.
With information from our news-gathering partners at TTWN Media Networks Inc.