Rumsey taking role as chair of Cummins Board of Directors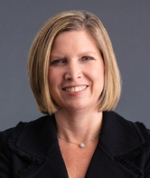 Cummins President and CEO Jennifer Rumsey is soon going to be the chair of the company's board of directors.
According to Cummins, that comes as Tom Linebarger retires from the role.
The Columbus-based engine company announced Wednesday that the board voted unanimously to elect Rumsey as the new chair. The role will take effect on August 1st, with Linebarger retiring on July 31st.
Rumsey was first appointed to the Cummins Board of Directors in February 2022 and has served as President and CEO of the company since August of last year. The company says Rumsey has advanced the company's decarbonization strategy in her first year as CEO. She also has had three consecutive quarterly revenue records in 2022 and 2023.
Rumsey said that looking ahead, the company will "continue to create innovative solutions that effectively address our customers' needs while making a positive impact on the communities we serve."
Rumsey, a Columbus native, holds a bachelors degree in Mechanical Engineering from Purdue University and a Masters in Mechanical Engineering from the Massachusetts Institute of Technology. Before coming to Cummins, Rumsey worked for a fuel cell technology company.
Linebarger served as Cummins' chairman and CEO from 2012 to 2022 and as executive chairman of the company for the past year. During his 10-year tenure, the company grew its revenue from $17.3 billion to a record $28.1 billion last year.
For more information: https://investor.cummins.com/news/detail/616/jennifer-rumsey-named-chair-of-the-cummins-board-of