Man accused of battering woman in front of her children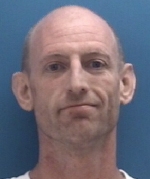 A Columbus man is being accused of battering a woman over the course of a whole day, while her children were present.
The Bartholomew County Sheriff's Department is reporting that they were called to the Elkland Hills Mobile Home Park at about 11:30 Wednesday morning on a report of a domestic disturbance.
They found a woman with several injuries. She said that she had been attacked for the past 24 hours, including having her head pushed into the concrete outside until she passed out. She was checked out by Columbus Regional Hospital paramedics.
The suspect, 41-year-old Phillip M. Ramsey ran into nearby woods and was found walking nearby. Deputies say that he then ran behind a mobile home and tried to hide in a shed.
He was arrested on preliminary charges of intimidation, strangulation, domestic batter causing bodily injury and domestic battery in the presence of a minor.